Get the Home You Deserve with the Professionals You Trust
Get the Home You Deserve with the Professionals You Trust
5 Reasons You Need Tortorice Contractors
We are friendly, courteous, and – most important of all – love helping people improve their homes
We give you the best possible estimate to serve your needs and meet your budget
We are fully Licensed and Insured
We only use the highest grade construction materials and products
Your Satisfaction is Guaranteed
5 Reasons You Need Tortorice Contractors
We are friendly, courteous, and – most important of all – love helping people improve their homes
We give you the best possible estimate to serve your needs and meet your budget
We are fully Licensed and Insured
We only use the highest grade construction materials and products
Your Satisfaction is Guaranteed
From doors to siding, to gutters and lighting, your home tells a unique story about you and your family…
We help you tell that story by designing and constructing home improvements that enhance the beauty and value of your property.
After all, your home is your family's single most important investment. It's where you live your most important moments! We understand completely, because we're a family business, so we ask for the opportunity to let us help you improve your home and enhance your lifestyle.
And because we offer instant financing, everyone can have the home they desire quickly and at a cost they can afford.
Tortorice Contractors is a South Jersey Siding and Roofing Company dedicated to your happiness and satisfaction.
We look forward to talking with you, and showing you what the Tortorice Contractors' family can do for your family.

Get a Free Estimate Now (Instant Financing)

Dear Shawn, Thank you so much for taking care of the problem with my laundry room window. You did a beautiful job and I really appreciate your responding so quickly. It looks beautiful now and I am very happy with the entire job.
Excellent job!! There was nothing you could have done better. Your worker was doing a house next to mine so I observed his work habits & quality of work he performed. So I was only expecting the best on my home. Thank You.
Tortorice did excellent with installation. Mark was great with following up and communications with a phone call the same day with answers to questions. Much better experience than I have had in the past with other contractors. Would definitely recommend Tortorice.
Tortorice Contractors is more than just a business- it's a family
In 1976, Perry Tortorice began installing roofing, siding, and repairing homes within the Southern New Jersey community in which he grew up and where he raised his family.
It was in these early years that Perry worked with two helpers perfecting his installation skills and a deep commitment to quality and superior service.  Skills in the home improvement industry are not learned overnight, rather over years of experience, education, and training.  It's crucial that Tortorice educates each customer about their homes unique issues, which products offer the most value, and offer solutions to meet individual needs.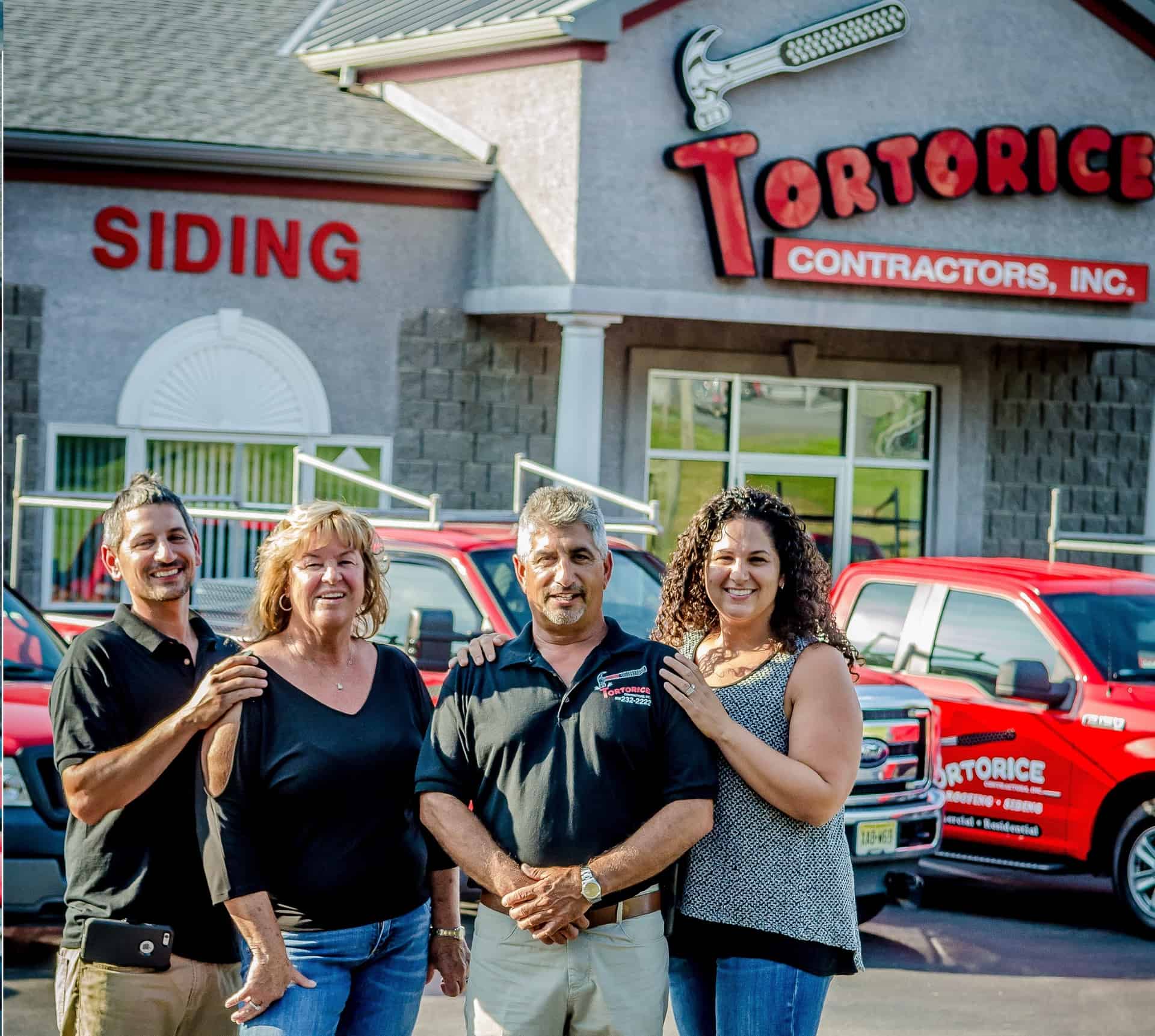 We serve all of your exterior needs: