Is it finally time to replace those inefficient windows or that old-fashioned door. Tortorice Contractors, Inc. has the best windows and doors to fit any of your application needs. If you are seeking energy-efficient window replacements or a new door for your home, then you came to the right place! We are your best choice for a window and door contractor. Make a wise investment in your home and choose a contractor with over 40 years of experience in window and door installation.
New windows don't just help you to save money on your utility costs, they also enhance the look and value of your home while you live in it, or when you look to sell your home. An important thing to remember is that a skilled and experienced window replacement contractor will look out for both your wallet and peace of mind. For your area's absolute best window professionals Tortorice Contractors, Inc is your best bet. We help you save time and money when choosing the right windows and doors for your next home improvement project. We recommend only the highest quality window and door manufacturers, such as Anderson, Thurmatru, and Simonton, to ensure our customer's satisfaction.
Window shopping is easy when you know what to look for. You'll find many styles, shapes, features and glass packages when looking for windows and doors. While this might seem overwhelming, deciding on the perfect choice for your home and family is simple. Take some time and assess your needs carefully to figure out what you need most. Consider which style will best suit your home and family, what thermal performance features will be ideal for your climate, and which glass options will be most appropriate. After you've figured out the basics, have fun with glass and grid options as well as unique hardware choices. No matter what you choose, all of our windows and doors open and close easily, allowing for maximum performance with minimum effort.
Vinyl doors and windows are also very effective insulators. Our vinyl profiles are specially designed to work with advanced glass packages for optimum energy efficiency. They offer increased comfort and lower utility bills, provide headache-free operation and add value to your home. In fact, testing shows that vinyl window and doors are comparable to wood products in thermal efficiency. You can't get much better than that.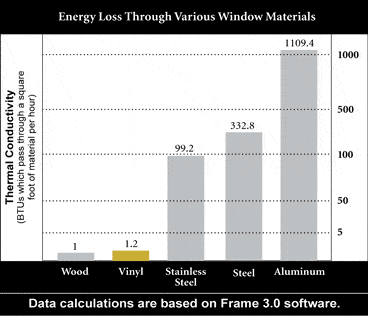 Styles and Shapes Available:
Double Hung: Both sash on Double Hung windows open fully.
Single Hung: Top sash remains fixed, while bottom sash opens.
Double Slider: Both sash open and close by gliding from side to side.
Single Slider: One sash opens and closes by gliding from side to side, while the other remains fixed.
Casement: Sash are hinged on the side and crank open a full 90 degrees* for maximum ventilation and cleaning.
Awning: Sashes are hinged on top and crank out and upward.
Picture: Picture windows are fixed and do not open or close.
Geometrics: Geometrics are fixed windows available in stylish shapes.
Bay: Bay windows are created by mulling three windows at either 30- or 45-degree angles.
Bow: More rounded in appearance than a Bay, Bow windows feature windows mulled at 10-degree angles
Garden Window: Garden windows feature functional Casement sidelights and create a sunlit area to showcase plants or collectibles.
Patio Door; Patio Doors feature broad expanses of glass and slide open easily.
Garden Door: Garden Doors swing open and can be ordered to swing in or out.